MINT
The legend is about to be written...
Crypto Lucha is a collection of 6,969 strong luchadores NFT in Solana with traits inspired by the Mexican Lucha libre's most powerful and legendary features.

Crypto Lucha will be launching on late Jan 2022 with a mint price of 0.25 SOL. Exclusive discounted pre-sale only for selected discord users.
What's that?
Ay wey, let me explain. Crypto Lucha is NFT pixel art. Each piece feature a completely unique luchador with its own look, attitude, power, and swag.

Compadres (owners) will be treated to rewarding perks (drops, giveaways, more swag) and the ability to use their Crypto Lucha to earn $TACOS and unlock special features and habilites in an upcoming dapp.
Why?
Inspired by the Mexican Lucha libre culture, '90s video games we grew up with and our love for tequila, we set out to create a collection that we are proud to share with the globe.

Our mission is to create a community around entertainment and content and explore ways crypto can create value, financial freedom and fun in the process. *WAGMI
UTILITY
TOKEN STAKING
(Earn for HODL)
Allowing Staking For Daily Rewards Of Our Utility Token $TACOS


With this tokens you will live in the Crypto Lucha metaverse like the OG "El Santo"


CryptoLucha DEX

FIGHT the floor & fractionalized NFT
Using parts of royalties to FIGHT the floor, burn some $TACOS & redistribute some to unlisted holders.


Other parts of royalties are used to buy other NFTs and fractionalize ownership back to $TACOS holders.

EVOLUTION MECHANISM (Training)
We implemented a Concept for an Evolution Game Of Transforming Your Luchadores With Token Burning Mechanics.


Luchadores + Tokens combined to send him into TRAINING. After 3 days, he can adapt new Traits & a Clan.

MINT PASS FOR FUTURE COLLECTIONS
For the CryptoLucha metaverse, Luchadores need other companions, think Baby Luchas, Female Luchas and more.

Staking gives you $TACOS
Evolve your Crypto Lucha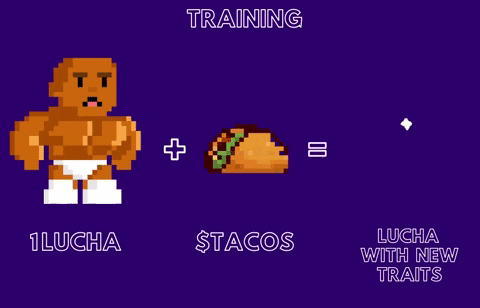 Roadmap
Phase 1 - Q4 2021 - Get the Ring ready
Pre-Launch (Mint 1-420 | Jan 30th 2022)
First 420 NFTs will be whitelisted exclusively for discord members on December and Early Jan.

SOL raffles to early NFT minters

Full Launch (Feb 2022)
All 6,969 NFTs will be available for minting soon after the first 420.

SOL and NFT giveaways to NFT holders & early supporters

*10% mint proceeds to NFT community through giveaways*
Phase 2 - Q1 2022 — Utility Token & NFT Customizer
We will create the CL Utility Token ($TACOS). Each Crypto Lucha NFT can generate 15 tokens per day.


Use your $TACOS to change your CL name and Clan, with more usage coming soon


Starts the first cohort of the CL Collab program, where the CL team will work with up-and-coming artists and old-school famous Luchadores to launch their NFTs.

Phase 3 - Q1 2023 — New Traits CLs & Familia NFTs
There will be new traits to customize your Crypto Lucha.


Traits are NFTs themselves so that they can be traded or sold


Traits are bound to your wallet when applied


We will have Familia NFTs such as:


Female Luchadoras. We will airdrop 1 Female Luchadoras per 1 Crypto Lucha owned. There will also be another 10,000 Female Luchadoras available for public mint


Baby Lucha. 1 Female Luchadoras and 1 Crypto Lucha will be able to use $TACOS to make Baby Luchas.

Phase 4 - Early 2023 — LuchaDEX
Meet the Team
LuchadorOG
Product & Software Developer
Misterio
Comunnity & Marketing Leader
Frida Lover
Creative Director
FAQ
Where can I get a Crypto Lucha?
When can I get a Crypto Lucha?
How much will a Crypto Lucha be?
Why Solana blockchain?